Morgan Stanley recently pointed out that the current shortage of automotive chips does not seem to be in short supply, and it is worried that there will be a wave of order reductions.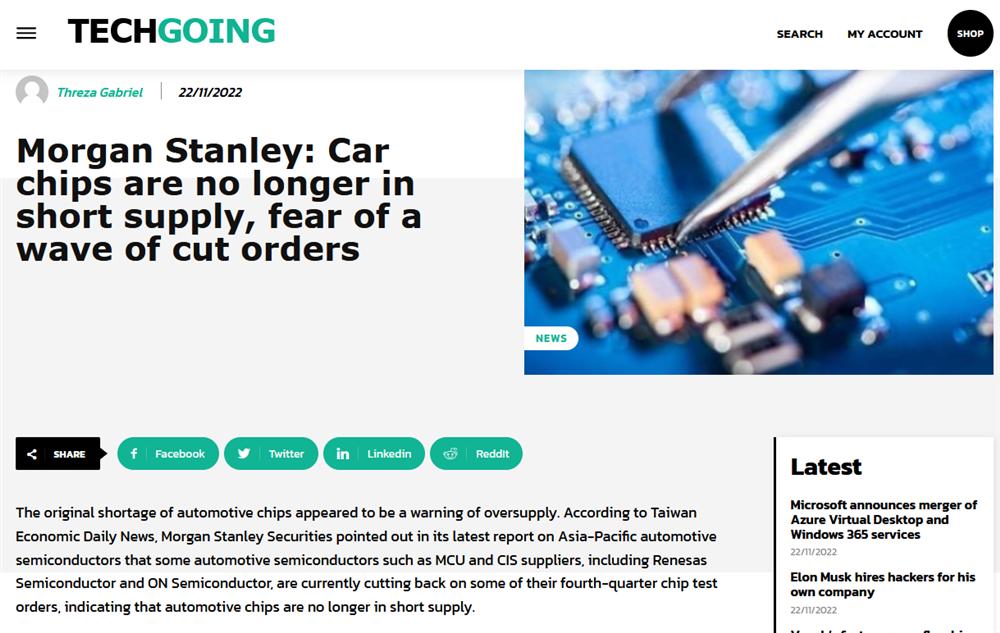 It is reported that in recent years, the compound annual growth rate (CAGR) of automotive semiconductor revenue is 20%, but the production of automobiles is only 10%. There should be an oversupply of automotive chips by the end of 2020 or early 2021, but due to the impact of the epidemic, the supply chain of automotive chips has been blocked or even cut off, which has led to a shortage of automotive chips.
As the epidemic eases, the supply chain is smooth, and consumer demand declines, wafer foundries such as TSMC have greatly increased the production capacity of automotive chips, and the shortage of automotive chips is improving.
In this context, the reduction of orders by some automotive semiconductor manufacturers seems to have released a signal that there will be no longer a shortage of automotive chips, and even a surplus of automotive chips.
No more shortage of automotive chips?
However, this phenomenon only occurs in some products of some manufacturers for the time being. In the overall automotive chip market, the industry generally believes that the shortage of automotive chips will continue for one to two years.
Xu Daquan, executive vice president of Bosch China, said recently that automotive chips will continue to be in short supply in 2023. "The feedback from many chip suppliers is that they will not be able to meet Bosch's current order needs next year, and there are still gaps, and even some gaps are relatively large. "
DPA also reported earlier that it currently takes six months from order to delivery for German automotive chips, twice the normal time. The shortage of automotive chips is expected to continue until 2024. ?
- Lack of cores affects automakers to cut production one after another
It is worth mentioning that Toyota Motor said on the 22nd that due to the shortage of automotive chips, it lowered its global production target for this fiscal year (April 2022 to March 2023) from 9.7 million to 9.2 million.
Some production lines at Toyota's three assembly plants in Japan will be shut down in December due to a persistent shortage of automotive chips. Among them, the second production line of the Takaoka Plant (located in Toyota City, Aichi Prefecture) will be suspended for two days, and the first production line of the Tahara Plant (Tawara City) will be suspended for four days. As the main SUV "Hound" and "Land Cruiser" and other models will be affected.
Earlier, Nissan's U.S. subsidiary also said that supply chain problems will force its assembly plant in Canton, Mississippi, to cut production in November. Nissan said it will reduce production days for the Titan and Frontier hatchbacks and the Altima sedan in November, with a decline expected in December as well. A memo provided to distributors reads: "The reduction in production days is due to the ongoing shortage of semiconductor chips, which has disrupted the supply chain.