The popularity of memory chips is on pause.
Falling prices in recent months have led the biggest memory makers, including Samsung and Micron, to issue grim forecasts and fall short of already lowered profit forecasts. Others have pledged to cut capacity plans, fearing a worsening supply glut. Chip executives and industry analysts don't see price declines bottoming out or even slowing until the middle of next year.
Memory chips -- found in smartphones, personal computers and data servers -- provide a barometer of the health of the semiconductor industry, which is considering a sudden shift from strong demand to a sudden drop in demand.
Average contract prices for the two main types of memory, DRAM and NAND flash, fell 15% and 28%, respectively, from the previous quarter during the July-September period, according to Taiwan-based market consultancy TrendForce. TrendForce estimates that prices for both types of memory chips are expected to drop quarter-on-quarter in the fourth quarter and throughout next year as inventory glut increases. But the double-digit decline should end in the spring and be flat or minimal by the end of 2023.
The latest sign of pain came on Friday, when Samsung, the world's largest memory maker, forecast a 32% drop in operating profit in the third quarter, well below analysts' expectations. And at the end of September, U.S. rival Micron reported a 45% drop in profit and issued a subdued outlook for the quarter. SK Hynix, which ranks No. 2 in memory revenue, is expected to see operating profit drop about 40% from a year earlier, according to analyst forecasts compiled.
Memory chip prices have been falling since late last year, said Avril Wu, research director at TrendForce. Compared with other types of semiconductors, memory has a larger number of competitors and the chips themselves are less differentiated, making them more commoditized. , more sensitive to changes in demand.
"Memory is usually the first component to feel demand changes and show price declines," Ms Wu said.
According to Gartner Inc., the semiconductor industry is expected to generate $619 billion in revenue in 2022, with memory accounting for about 27%, which includes chips in other major categories such as microprocessors and image sensor chips. Samsung, SK Hynix and Micron, as well as the largest players in the industry by revenue.
The entire chip industry boomed in the early years of the Covid-19 pandemic as demand for the technology surged and supply shortages sent prices soaring. This year, high inflation, rising interest rates and geopolitical tensions have led to a pullback in sales of items like PCs and smartphones, as well as a larger-than-expected drop in demand for video game gear.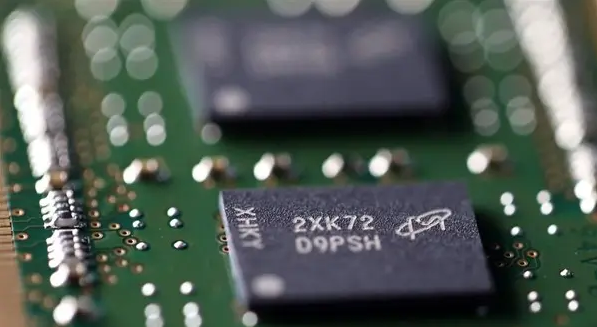 These pressures go beyond memory. Advanced Micro Devices Inc., citing significant weakness in the PC market for its central processing units, lowered its revenue forecast for the third quarter after issuing a lacklustre outlook earlier.
AMD's profit warning and Samsung's outlook combined to weigh on semiconductor stocks. AMD fell more than 13% in Friday's trading. Shares of graphics chip maker Nvidia fell more than 7% and Micron shares fell more than 3%. That share has also declined as the U.S. government imposed new restrictions on exports to China.
But among the different chip types, memory is expected to see the smallest revenue growth next year at 0.6%, while logic chips are up 8.1%, analog chips are up 6.4% and sensor chips are up 3.9%. Trade Organization World Semiconductor Trade Statistics.
One variable that could affect price action is whether chipmakers will reduce production, which reduces supply. Last week, Japan's Kioxia Holdings said it would cut its NAND flash production by about 30% starting in October to "better manage production and sales."
Micron CEO Sanjay Mehrotra said in an interview that while the memory market is still expected to grow strongly over the next decade, his company is slowing production spending to reduce short-term supply. Micron plans to spend $8 billion in capital spending this fiscal year, a 30% decrease from the same period last year.
Chip companies expect demand to eventually pick up, driven by growth in artificial intelligence, autonomous driving, industrial automation and other applications that require massive data processing. On Tuesday, Micron said it would spend $100 billion on a new New York factory to make DRAM that could help applications run faster. Other chip giants such as Intel, Samsung and TSMC are considering big investments.
"We will need new DRAM manufacturing capacity in the second half of the century, so decisions about investment and construction start must be made now to meet the growing demand for memory in the second half of the century," Mr. Mehrotra said.
Last month, Samsung co-CEO and head of semiconductor business Kyung Kye-hyun said the company's fundamental stance is to focus on stable investments, as underinvestment in a downturn could hurt business once the market recovers.
Samsung and SK Hynix have not publicly shared plans for potential output adjustments. But a senior executive at Samsung's memory business said this week that the company is committed to a policy of not intentionally reducing capacity, and he sees no immediate need to change that strategy. SK Hynix declined to comment on the possibility of a production pullback, though company executives noted during the company's second-quarter earnings call that it will remain flexible on capital spending in response to market conditions.
Production constraints in the first half of next year, coupled with an improved demand outlook in the second half of the year - typically new phone launches and the peak electronics sales season around the holidays - are factors that will lead to less severe price declines in the second half of 2023, TrendForce's Ms Wu Say.